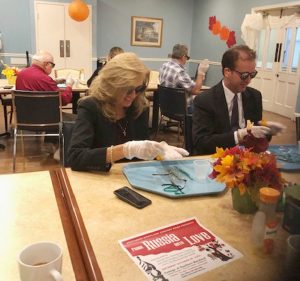 Members of the 2020 class of Leadership Southern Maryland recently participated in a dementia demonstration presented by the team at Sagepoint Senior Living.
LSM's Executive Leadership Program is a nine-week course aimed at developing a diverse network of community leaders in Southern Maryland.
"The dementia demonstration was part of the program's Healthcare Day," said Sagepoint President and CEO Andrea Dwyer. "It provided these local leaders with a glimpse into the struggles that dementia patients face each day, as well as the challenges that our healthcare community works to overcome."
Demonstrating the Difficulties of Dementia
Nurse Educator Lee Giannini led the activity which guided the participants through a series of exercises designed to simulate the struggles people with dementia experience with sensory, sensitivity, coordination and cognitive deficits.
Following the discussion, our clinical leadership team, including Dwyer, Michele Buscher, our Chief Nursing Officer (Long-Term Care and Rehabilitation) and Denise McCann, our Chief Nursing Officer (Assisted Living, Memory Care and Adult Day Services). The panel answered questions and presented information to help caregivers and families who have a loved one with a dementia-related illness.