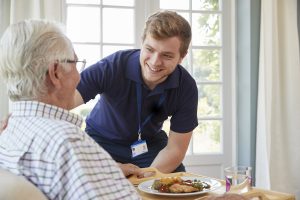 When you put your heart and soul into the work you do every day, it feels good when others take notice.
We're thrilled to share that the team at Sagepoint Senior Living recently received three prestigious honors for the work that we do and the caring environment that we provide for seniors in our community. It's even more rewarding to know that the recognition is the result of both high-performance in measurable results and the recommendations of those who have seen firsthand the difference we make.
Maryland Independent "Reader Approved"
Readers of Charles County's trusted local newspaper recently voted Sagepoint as the county's best in three distinct categories: Best Assisted Living Facility, Best Nursing Home and Best Retirement Community.
We are so grateful for this honor because it comes from the people who have direct experience with Sagepoint –– our patients, their families and their friends.
U.S. News & World Report "Best Nursing Homes"
The nationally read and respected U.S. News & World Report included Sagepoint in its list of the nation's "Best Nursing Homes." The publication's rankings were the result of a thorough process that rated our facilities and staff –– both short-term and long-term care –– across a variety of categories.
The categories included staffing, levels of therapy, patient outcomes, patient feedback and more. Visit our featured page on the U.S. News & World Report website for a deeper look into the assessment and the care we provide.
Newsweek's "Best Nursing Homes 2020"
Newsweek, another award-winning national publication, named Sagepoint one of the nation's best nursing homes for 2020.
More than 15,000 nursing homes nationwide were evaluated, and only 400 received this prestigious honor. Of the 26 Maryland nursing homes that made the list, Sagepoint ranked in the Top 5.
Newsweek's staff rated the nursing homes in partnership with global data research firm Statista, Inc. Together, they adopted a rigorous methodology that drew on key performance indicators such as health inspections, staffing and quality measures. They also incorporated recommendations from medical experts, including physicians, nurses, therapists and administrators.
Our greatest reward is always in the difference our team can make in the lives of seniors and their loved ones, but we are proud to see that impact reflected in the assessments of these publications. We are thankful that so many local families trust us with the care of their loved ones, and we will continue to honor that trust by doing all that we can to provide the highest levels of care.