Assisted Living vs. Home Care: Which Option Is Right for You?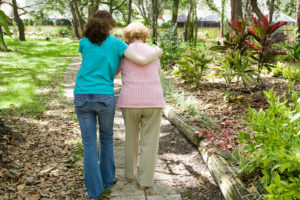 If you have an elderly loved one who is losing their ability to safely live independently, then you're no doubt researching senior care options. Two common options for senior care include assisted living and home care. Keep reading to get an overview of both Assisted Living and Home Care and a guide for choosing the route that is right for you and your loved one.
Assisted Living
Assisted living communities provide personal care support services such as meals, medication management, transportation, and assistance with the activities of daily living such as dressing and bathing. This option is ideal for seniors who need daily assistance but still want to maintain as much of their independence as possible. In addition to receiving around-the-clock personal care, seniors often also have the opportunity to participate in recreational activities like book clubs, social outings, gardening and more.
The Pros of Assisted Living
The opportunity for social engagement
Adapts to changing needs
Home-like environment
Reduces worry about upkeep and maintenance of home
Onsite amenities, such as salon services, visiting physicians, and gardens
Various levels of assistance available
The Cons of Assisted Living
Less privacy and independence than living at home
You may need to transition to a nursing home if your condition deteriorates beyond what is appropriate for assisted living (Senior care communities offering both assisted living and long term care services may be ideal)
Assisted living is not the most expensive option, but neither is it the least expensive
Home Care
Many seniors wish to remain in their home for as long as possible, and if only minor assistance is needed, home care is a wonderful option. Home care offers care plans that can be customized to fit the needs of your family and your loved one. Companion care services may consist of ensuring basic safety, light housekeeping, laundry, appointment escort, and more. Personal care services, performed by a CNA, may consist of feeding assistance, medication management, bathing/showering, hair/skin/oral care, toileting assistance, and more.
The Pros of Home Care
The ability to age in place
The preservation of privacy and freedom
If a form of dementia should develop, the familiar surroundings may provide comfort
Care is administered by a professional caregiver
It may be less costly than other options
The Cons of Home Care
The home may not be equipped for changes in mobility and physical abilities
You may be at a disadvantage in the case of a medical emergency
Making the Right Choice
When choosing the best option for your loved one, consider these questions:
Does your loved one wish to remain at home?
Is the home a safe environment, or can changes be made to make it safer?
Would they benefit from assistance with medication management?
Do they wish to continue preparing their own meals, or would they benefit from meal preparation services?
Are they socially isolated?
Would they benefit from being part of an active community?
Are there any family members that can move in with them, or who they could move in with?
Are they in need of around-the-clock care, and is there anyone who can provide the level of care that they need?
Are there financial limitations to consider?
By including your senior loved one in the decision-making process and taking their needs and preferences into consideration, you can ensure that you reach a decision that suits every family member.
Do you need additional assistance in choosing the senior care option that is best for your situation? Our Sagepoint Advisors can provide guidance for every step of the way. Contact us today to learn more about Sagepoint Home Care and Sagepoint Gardens, and let us assist you in choosing the option that right for you.
[wp_blog_designer]