What Is a Living Will?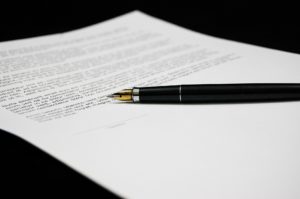 If you're like most people, you're familiar with the purpose of a last will and testament. This document provides a comprehensive outline that expresses your preferences after you have died. Whether you've created one or not (only about 50% of adults have), you're probably aware that at some point you will die, and that you can save your loved ones a lot of stress by providing this final piece of guidance.
As uncomfortable as many of us are with the thought of our own deaths, we're even more squeamish thinking about the days and weeks leading up to our final breaths. However, just like your final will and testament is designed to help your loved ones by outlining your wishes after your death, a living will guides your loved ones through the difficult decisions that must be made during situations in which you are unable to communicate.
Keeping reading to learn more about living wills and how to create your own.
What Information Does a Living Will Provide?
Living wills, also known as advance directives, range from very specific to very general. However, wills that only provide general information may not offer sufficient direction and cause unnecessary confusion and friction between your healthcare providers and your loved ones. For this reason, living wills that provide specific information are preferred. Your living will should contain carefully thought out and informed instructions that are based on communication between you and your physician before a medical crisis occurs.
Since living wills were first drafted in the 1960's, medical information and technology has grown exponentially. Today's living wills focus less on specific treatments and medical procedures and more on the patient's personal goals and their preferred health outcomes.
A living will can:
Discuss pain management and palliative care
Designate who will make medical decisions on your behalf
Outline what kind of life support treatment that you want (or don't want)
Provide instructions for personal grooming and bathing
Describe what type of religious, spiritual or emotional support you want
Detail funeral or memorial service preferences
Making Your Living Will (And Encouraging Your Senior Loved One to Do the Same)
While less than half of adults have a living will, a majority of those that do are seniors. However, if your senior loved one has not created one, the best way to encourage them to do so is to make one yourself. This is a great way to demonstrate that you're not just asking them to create one because you're concerned about their health, but that it's simply the responsible thing to do.
While a lawyer can assist you in creating a living will, you do not need to hire one for your document to be legally valid. Every state has its own criteria for making a living will, so be sure to find one that meets your state's requirements. A user-friendly advance directive form and instructions valid in Maryland can be found below. Living will forms can also be found at your doctor's office, local hospitals or senior centers. There is also software available to help you draft your living will. Once you have completed it, you will need to sign it and have it signed by two witnesses. You should give one copy of your living will to your doctor, and you should make other copies to give to those close to you to have on hand should the need arise.
Creating a living will is a simple way to prevent unnecessary stress for your loved ones while ensuring that your wishes are carried out, even if you are not able to communicate them.