LEADERSHIP SOUTHERN MARYLAND EDUCATES LEADERS: Class of 2022 Experiences Healthcare in Southern Maryland
LEONARDTOWN, Md. – May 27, 2022: On May 19, 2022, the Leadership Southern Maryland (LSM) Class of 2022 participated in the last of nine educational sessions for the 2021-22 LSM Executive Program – Healthcare.
Sponsored by the Chesapeake-Potomac Healthcare Alliance, this one-day event began with a presentation by Sagepoint Senior Living Services on the memory care services they offer to seniors. Sagepoint representatives also provided the class with the unique opportunity to participate in a dementia exercise that demonstrated the challenges faced by those coping with memory loss and sensory issues.
Next, the class took part in a mental health first aid exercise followed by an exploration of dental health in Southern Maryland. This portion of the day included tours of the Health Partners dental site in Waldorf and a visit from the CalvertHealth Mobile Health Center. The morning wrapped up with the Southern Maryland Hospitals Panel during which class members had the opportunity to ask questions of leadership from CalvertHealth System, University of Maryland Charles Regional Medical Center, and MedStar St. Mary's Hospital.
Following lunch, the class walked through a health fair where they had the opportunity to explore numerous services and wellness-related topics including nutrition, meditation, chronic disease prevention, and many others.
The afternoon portion of the day kicked off with a discussion on public and community health issues where panelists from the three Southern Maryland county health departments fielded questions about their programs along with the challenges they face in the public health sector. The session rounded out with a focus on behavioral health featuring small-group presentations by the St. Mary's County Health Department Harm Reduction Program Office, Maryland Coalition of Families, the Calvert County Healthy Beginnings Program, and a tour of the Charles County Sheriff's Office's HOPE Trailer.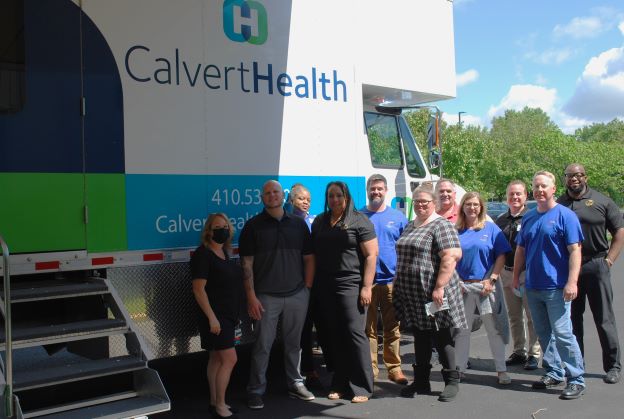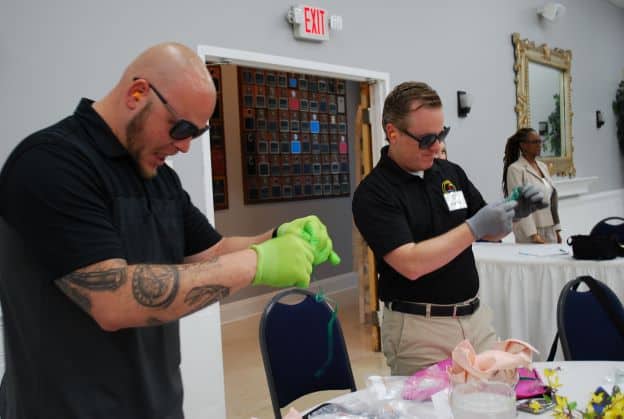 Top: LSM Executive Program Class of 2022 participants explore the CalvertHealth Mobile Health Center. Bottom: Class members Rob Vest and Pat Hickey participate in a dementia exercise during the Healthcare session on May 19, 2022.