Four Areas to Observe When Visiting Senior Loved Ones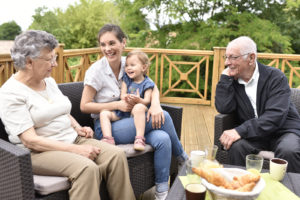 As we're approaching the holiday season, you may have opportunities over the upcoming months to visit family. These reunions often showcase how aging parents and other loved ones have changed over the course of the year. This time together can provide a wonderful chance for you to evaluate their health and quality of life and to recognize if any changes need to be made.
Keep reading to learn how to identify the common issues that your senior loved one may be facing.
General Health
Unfortunately, chronic health problems among seniors are not unusual. While aches and pains are often a part of the aging process, there are things to watch for, such as:
Frequent trips to the emergency room
If you notice any of these signs that your loved one's general health is declining, then you may want to accompany them on their next visit to their doctor or talk to someone who can help you determine whether changes in your loved one's care should be made.
Activities of Daily Living
Daily living activities are everyday tasks that must get done, whether we do them ourselves or have someone assist us with them. From basic tasks (bathing and grooming, eating, getting around the home and using the toilet) to more complex tasks (money management, transportation, housekeeping duties and shopping), there are a range of self-care activities that must be taken care of to ensure a high quality of life.
If you have the opportunity to visit a senior loved one over the coming months, try to take a discreet inventory of their food pantry and refrigerator, particularly if they live alone. Keep an ear out for any clues that they are struggling financially or that they have difficulty getting around town.
Mood and Mental Health
Has your loved one's personality changed drastically since your last visit? Do you detect a hint of depression or anxiety that wasn't there before, or do they express frustration over memory problems?
Cognitive changes are normal in older adults, and depression often accompanies traumatic events, such as the loss of a spouse or a change in their living arrangements. If your loved one seems disengaged or if their behavior is unusual, then it may be time to have a conversation with their doctor.
Safety
Most seniors wish to maintain their privacy and independence for as long as possible; unfortunately, this is often done at the expense of their safety and wellbeing. Here are a few areas of safety to watch for:
Are they managing their money well? Do they have the ability to buy what they need, and are you worried about them falling for scams?
Do they wander or get lost?
Have they had changes in memory or judgement that may jeopardize their safety?
Do they manage their medications well (taking the right pills at the right times, properly measuring dosage, etc.)?
Have they had car accidents or close calls?
Have they had changes in balance or ability? Are they prone to falls, or have they had frequent visits to the ER?
Is their home a safe environment with a proper heating and cooling system, grab bars and other accessibility aids?
Oftentimes, simple changes can be made to offset the challenges that come with aging, such as showing your senior loved one how to buy groceries and other necessities online, making their home more accessible or having a caregiver visit a few times a week. By observing your senior loved one this holiday season, you can ensure that they continue to enjoy a high quality of life.