Another Story Made Possible by Your Incredible Support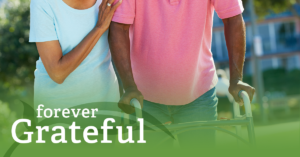 While most of the care we provide at Sagepoint is for seniors, that's not always the case. We thought you'd like to hear this story of a young married couple and the medical challenges they are overcoming– thanks in large part to the support of donors like you.
'A 100% Miracle'
Karen Shifflett remembers her second wedding anniversary all too vividly. She sat at her husband's beside in a hospital intensive care unit. Driving home from work in February 2013, John's car was struck by a train in Brandywine, MD.
"After his first week in the hospital, the doctors told me to make arrangements for a nursing home- that he'd be a vegetable for the rest of his life."
John, age 29, arrived at Sagepoint a month later. From the very beginning, Karen says, "the care was like nothing we had ever experienced. It was phenomenal."
John arrived still very much in a "vegetative" state. After two months of speech, occupational, and physical therapy, he was eating a soft diet, sitting up, and responding to his family.
Today John continues to improve with the help of a walker and a wheelchair. He attends Sagepoint's Adult Day Services every Saturday. Karen calls him a "100% miracle" and credits the staff and aides at Sagepoint.
"The time they put in with the therapy… they didn't give up. They pushed him and they were always so positive. Just to know that he wasn't alone meant everything to me."
We Need Your Help Once More
Because of the high costs of the care we provide and the limitations of government funding, we've set a goal to raise $1 million to enhance and expand care for our patients and residents by 2021. The first phase of this campaign we are calling Forever Grateful and our first goal is to raise $150,00 by the end of 2018. We know that you can't give to every worthy cause, but as you consider your year-end donations, please consider donating to Sagepoint.