2017 Sagepoint Scholar Award Recipient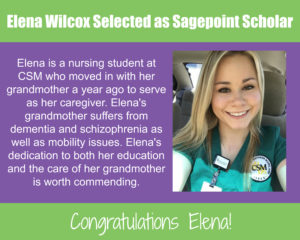 Apply NOW to Win Our $1,500 Scholarship
Application Deadline: June 15th, 2017
Are you a college student or future college student caring for an aging loved one? While caregiving can be very rewarding, at Sagepoint Senior Living Services we understand that caregiving can also at times be challenging. This is especially true for individuals trying to balance caregiving with the demands of school and a career. For this reason, we are excited to announce the Sagepoint Scholar Award. This $1,500 scholarship will be awarded to a selected college student (or incoming freshman) that is currently caring for, or has recently cared for in the past year, an aging loved one. Any existing student (or incoming freshman) that is in good academic standing at a 2 or 4 year accredited college can apply for this scholarship. The applicant must communicate the following in their submission:
Who do you care for? What is your involvement as their caregiver?
Has your role as a caregiver influenced your desired major/career path? If so, how?
How would this scholarship be helpful to you as a student-caregiver?
The selected Sagepoint Scholar will receive $1,500 to be applied towards tuition, books, board and other expenses.
Scholarship Details:
Amount: $1,500
Duration: One-Time Payment
Number of Recipients: 1
Applications accepted beginning April 15th
Deadline Date: June 15th, 2017
Selection Date: June 30th, 2017
Announcement Date: As soon as the recipient is contacted and eligibility confirmed
Application Requirements:
An existing college student or incoming freshman (to be enrolled in the Fall of 2017 in good academic standing)
Can attend any 2 year or 4 year accredited college or university as a full-time student
Applicant must currently reside in Southern Maryland (Calvert, Charles, St. Mary's Counties).
Complete and submit the application form. Each applicant will provide a 1,500-word essay OR 2 minute video describing his or her journey as a caregiver. If the applicant chooses to submit a video, he or she must provide either the video file OR a link to the video.
Judging will be based on the submission quality (inspiring, extraordinary, or otherwise compelling) of the application and the Sagepoint Scholar will be chosen via a vote by members of Sagepoint Senior Living Services' leadership team.
Questions? Contact Kelsey Pearson, Director of Marketing, by email or at 301-934-1900 ext. 341.
SCHOLARSHIP AGREEMENT
By applying for the Sagepoint Scholar Award, I represent, understand, and agree to comply with the following conditions:
I am a citizen or a Permanent Resident of the United States.
I am a full-time student at an accredited two- or four-year university or college in the United States- or- full-time high school student who is registered to attend a two- or four-year university or college next semester.
If I am selected as the Sagepoint Scholar, funds will be delivered directly to my educational institution and those funds will be used for my tuition or books.
I am not on academic disciplinary status.
My Application Materials — text, content, video, creatives, and other materials do not contain or rely upon any trade secret or other nonpublic technical or business information of any kind of a third party.
Sagepoint Senior Living Services may use my Application Materials via social media, on the internet, and via other media and means to raise awareness about family caregiving.
I understand that Sagepoint Senior Living Services may choose to not award or to withdraw the award for any reason.
Sorry but we are no longer accepting entries as the deadline has passed.
Be sure to visit https://www.caring.com/scholarship and https://www.seniorcare.com/scholarship/ to additionally apply for Caring.com's #CaringScholar and SeniorCare.com's Aging Matters Scholarship, the two scholarships that inspired our Sagepoint Scholar Award!