A Story of Recovery Thanks to Your Support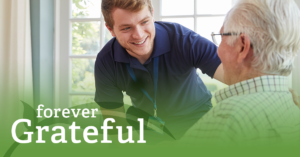 Every patient that Sagepoint works with faces their own unique challenges. We're here to help them all. What keeps us going is the support of our community, people like you, and the opportunity to play a part in stories like this.
'He's Back to Doing Everything'
"I knew Sagepoint was there, but I really didn't know much about it," says Barbara Howell, a lifelong resident of La Plata.
That changed in September 2015 when her husband of 43 years, Edward, suffered a massive stroke. After a brief hospital stay and a short time in an out-of-state rehab facility, Ed came to Sagepoint. He spent two months undergoing speech, occupational, and physical therapy.
"Everything improved," Barbara said. "If I had to do it all over again, he would have come straight to Sagepoint."
Today Barbara says, "his brain is wonderful," and at age 81, he's "back to doing everything." His grateful wife calls the staff and aides "outstanding."
"The place is as nice as could be," she said. "Now that I know about it, it's certainly a place I would go, too."
We Need Your Help Once More
Because of the high costs of the care we provide and the limitations of government funding, we've set a goal to raise $1 million to enhance and expand care for our patients and residents by 2021. The first phase of this campaign we are calling Forever Grateful and our first goal is to raise $150,00 by the end of 2018. We know that you can't give to every worthy cause, but as you consider your year-end donations, please consider donating to Sagepoint.